17 Beautiful Hikes Near Minneapolis and the Twin Cities Area [2023]

When thinking of going hiking in Minnesota, the Twin Cities may not be your first thought.
But there are some fantastic ways to get out in nature, and there are plenty of awesome hikes near Minneapolis and St. Paul!
Some of these hikes are located just miles from the center of the city!
Between the hundreds of miles of trails, 30+ state parks nearby, and basic walking paths, you'll surely be able to find a way to get outdoors.
The Best Hikes Near Minneapolis
There are many parks, trails, and areas to explore in Minnesota, even in and near the Twin Cities metro area!
Whether you're planning a visit to Minnesota, or you're a local looking to get out in nature, here is a list of some great places to get outdoors.
1. Theodore Wirth Wildflower Trail
Distance: 1.8 miles roundtrip
Location: Theodore Wirth Regional Park
The Theodore Wirth Wildflower Trail is a short, easy hike near the Twin Cities through the woods and over boardwalks.
The trail is located in Theodore Wirth Regional Park, the largest park in the Minneapolis parks system, at over 700 acres of land!
You'll hike right through the Eloise Butler Wildflower Garden and Bird Sanctuary, allowing you to see some beautiful flowers in the summertime.
When you're in the sanctuary, you won't even believe that you're so close to the largest cities in the state.
Keep an eye out for wildlife such as white-tail deer and turkeys as you hike this trail! They are abundant in Minnesota!
Many people love to use the trails within this park during the winter for cross country skiing as well!
2. Minnehaha Falls Loop
Distance: 0.8 miles roundtrip
Location: Minnehaha Regional Park
Located in the heart of the Twin Cities, this is the perfect hike for someone that doesn't have much time.
And if you're looking for a waterfall hike, then this is the one for you!
Minnehaha Falls may be one of the most iconic places to visit in Minneapolis because it's so unexpected!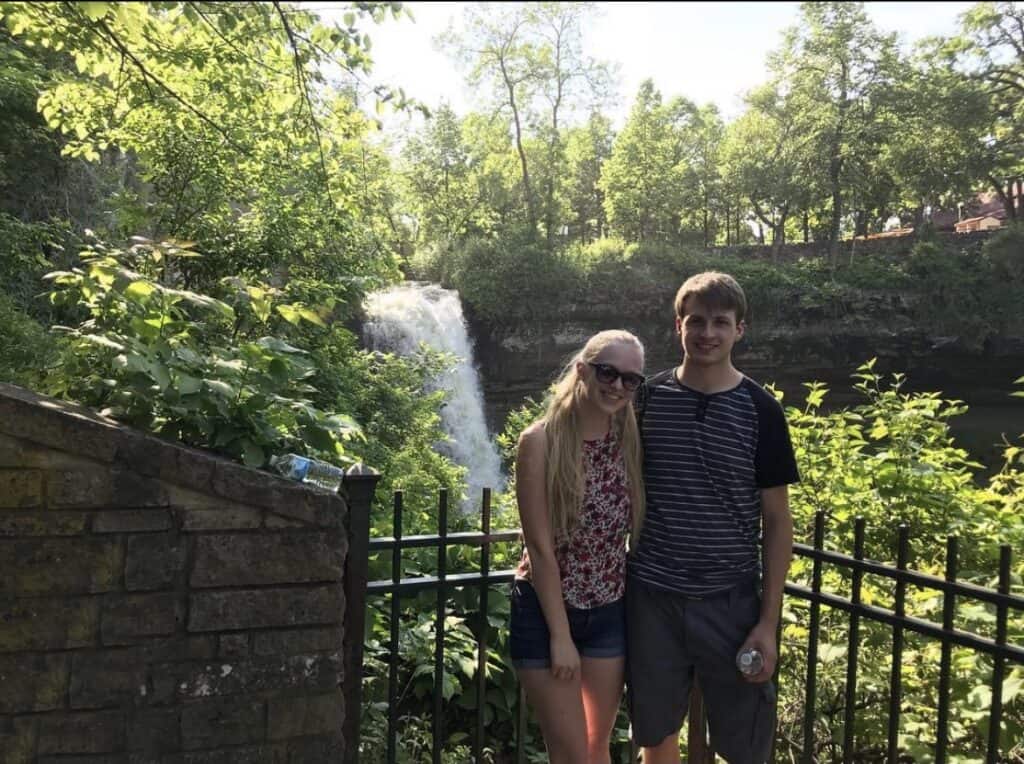 Dropping 53 feet into the Minnehaha Creek, Minnehaha Falls is pure beauty, any time of year.
In the summer, it flows strongly and in the winter, icicles form over the dropping water.
It's a very short hike, and the falls viewing area is only a short walk from the parking lot.
If you're up for a bit longer hike (1.8-miles roundtrip), instead take the Minnehaha Creek Trail.
This leads you past the falls and along the Minnehaha Creek.
3. Hidden Falls
Distance: 1.3 miles roundtrip
Location: Hidden Falls Regional Park
It can definitely be tough to find waterfalls right in the big city, but Hidden Falls gives you a taste of one, without having to go to far.
This easy and family-friendly hike near Minneapolis gives you the opportunity to stroll along the Mississippi River for a while before turning off into the trees.
After a short distance, just 1.3 miles roundtrip, you'll reach the small Hidden Falls, which slowly drops over a rocky cliff.
It's not a huge falls by any means, but if you're looking for a way to escape some of the busyness of the city for a while, this is a great trail to check out.
4. Quaking Bog Loop
Distance: 1.2 miles roundtrip
Location: Theodore Wirth Regional Park
The Quaking Bog Loop is another great hike in Theodore Wirth Regional Park.
It's an easy loop trail, with very minimal elevation gain, perfect for families and people of all skill levels.
This hike takes you through the last remaining Tamarack Bog in Minneapolis!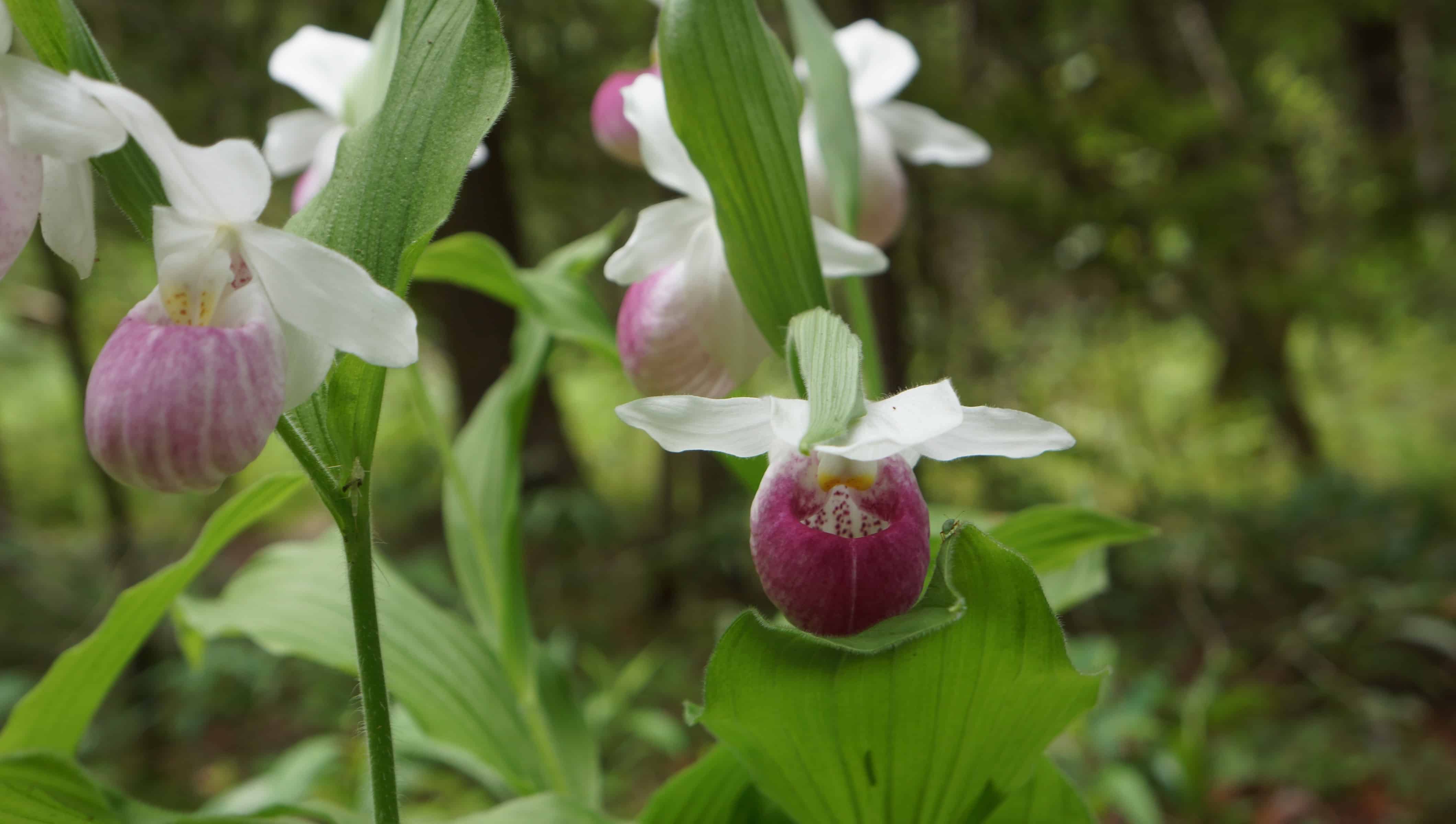 You'll follow a boardwalk for part of the trail, and then the rest is on a dirt path.
Beautiful trees, swampy bog, wildflowers, and mushrooms are some of the amazing nature that you'll find on this hike.
You also will want to keep your eyes peeled for other wildlife such as white-tailed deer.
It's a unique trail, and you definitely wouldn't guess that you're still not too far from the center of the city.
While you're at Theodore Wirth, you may choose to pair this hike with the Wildflower Trail that I mentioned above.
5. Pike Island Loop
Distance: 3.9 miles roundtrip
Location: Fort Snelling State Park
Just like the name says, the Pike Island Loop will lead you in a loop around the small Pike Island in Fort Snelling State Park.
This is one of the most unique trails in the area because of the fact that it brings you onto an island.
Pike Island is situated perfectly between the Minnesota River and the Mississippi River.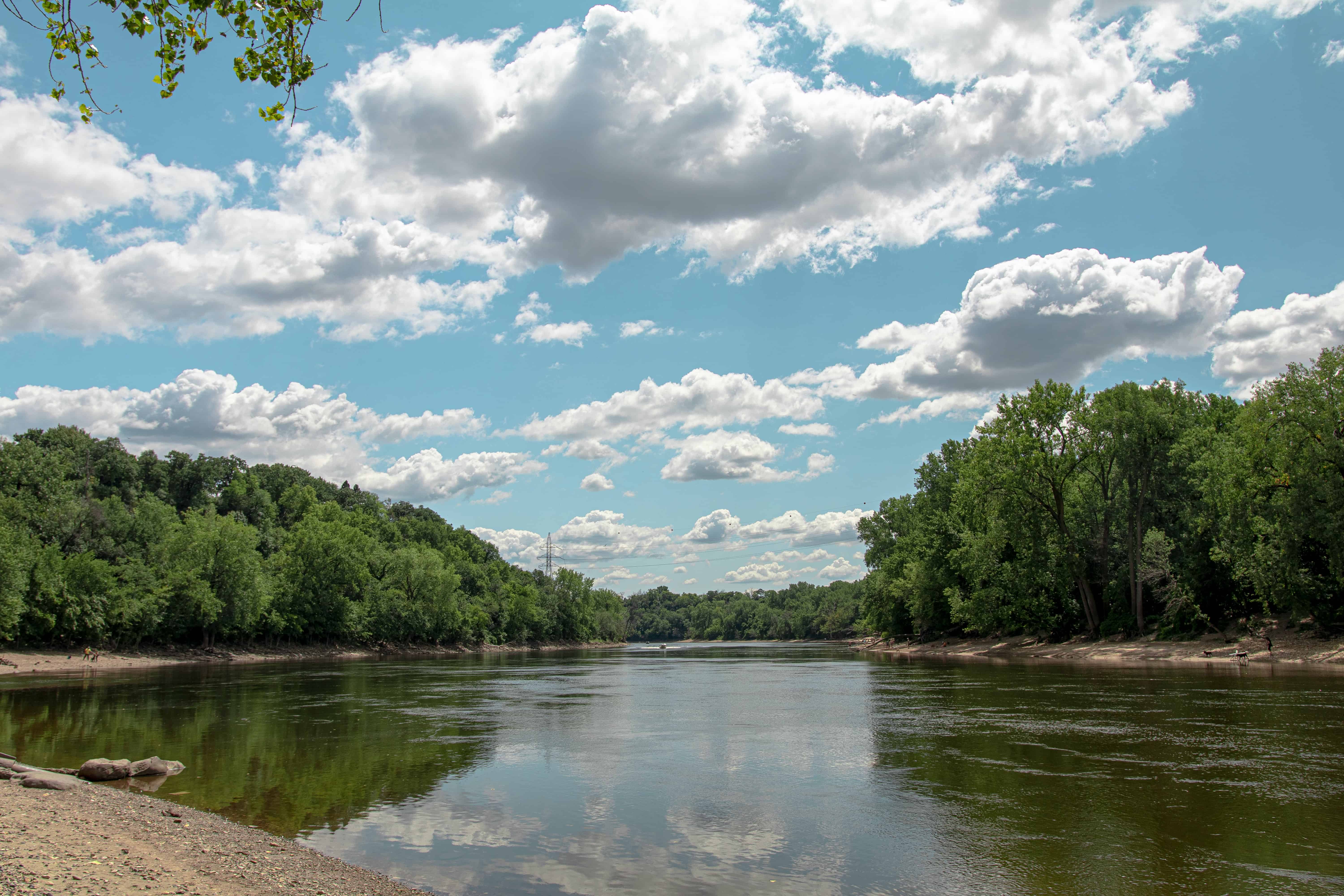 You'll have amazing views throughout the entire hike of the two rivers' shores and where they merge together.
It's a great place to get out for a mid-day or after-work hike, right in the middle of the cities!
Fort Snelling State Park is a mere few miles from the MSP Airport, making it the perfect place to stretch between connecting flights!
You also may be able to see the low-flying airplanes above you as they descend for landing or take off to their next destination.
6. Willow Falls
Distance: 2 miles roundtrip
Location: Willow River State Park
The Willow Falls Trail is a great short hike, located in Willow River State Park with amazing views of a cascading waterfall.
It's actually not located in Minnesota, but just right over the border in Hudson, Wisconsin, and a hike within an hour of Minneapolis.
This trail is pretty popular and you'll be met by plenty of other hikers on your way to Willow Falls, especially if visiting during the summer or fall.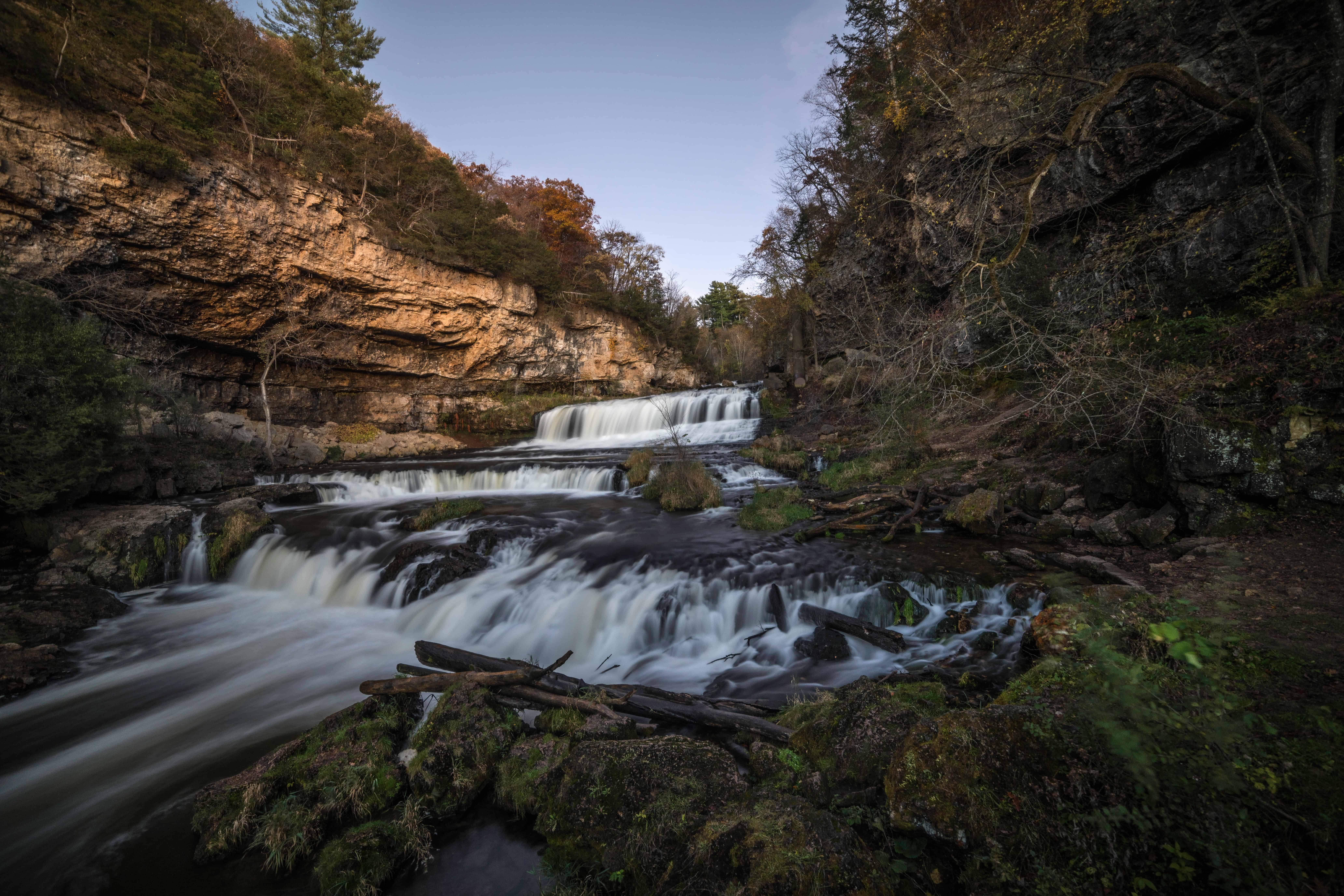 The main attraction on this trail, Willow Falls, is a huge waterfall, that some people enjoy wading in in the summer months.
Because the waterfall is pretty close to the parking lot, you don't have to complete the entire thing if you don't want to.
There are some hills on this hike that may be difficult for some, but the short distance keeps this hike pretty easy.
If you're looking for a bit more hiking, the park offers 13 miles of trails, so there will definitely be something that you can add on.
7. Mississippi Gorge Loop
Distance: 5.6 miles roundtrip
Location: Mississippi Gorge Regional Park
The Mississippi Gorge Loop is a bit longer than other hikes near the Twin Cities on this list, but the incredible views make every mile worth it!
When you get started on this trail, you won't believe that you're only a few minutes from downtown.
This loop trail brings you around the banks of the Mississippi River. You'll have views of the river for the entire hike!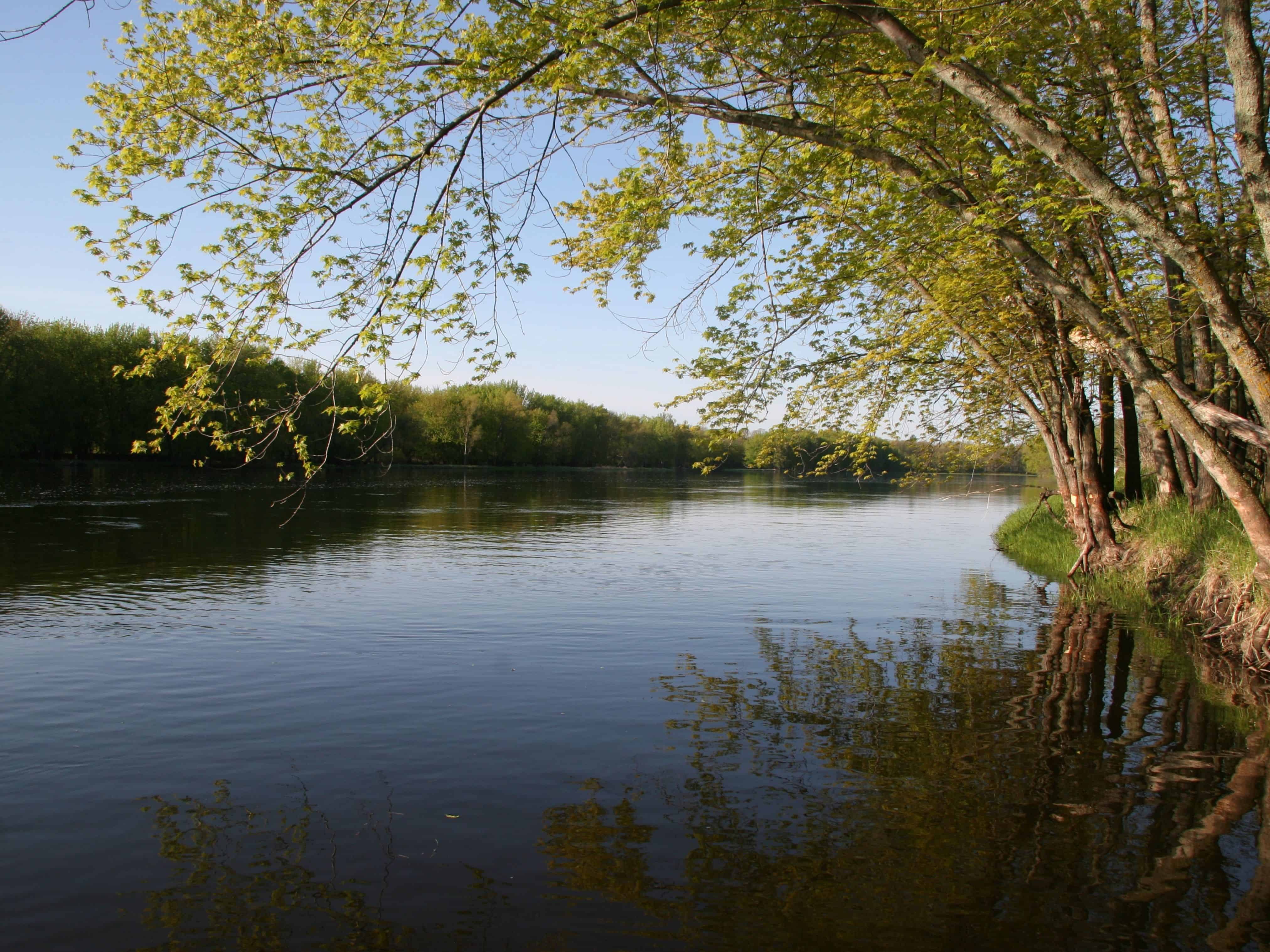 You'll also see Saint Anthony Falls, the Stone Arch Bridge, and Shadow Falls, and it's really close to downtown, where there is plenty to do, eat, and drink.
I love this trail because you get to see one of Minnesota's most famous landmarks, the great Mississippi.
There are beautiful rock formations all along the river and you'll have great views of the Twin Cities skyline.
There is some elevation gain along this trail, and it is a longer hike. Come well prepared!
But, there's also nothing stopping you from going a short distance and then turning back to the trailhead!
8. Winchell Trail
Distance: 5.4 miles roundtrip
Location: Mississippi Gorge Park
This is one of the most popular hikes near Minneapolis, as it runs right along the Mississippi River and has some beautiful views.
The Winchell Trail has a few starting and ending points, depending on where you'd prefer to park your car.
You'll pass by a few beaches, which are nice for dipping your toes in during the summer months, and you'll also be close to Minnehaha Falls.
With such close proximity to the falls, it's a nice addition to your itinerary to make a full Twin Cities hiking day.
9. Lebanon Hills Loop
Distance: 5.3 miles roundtrip
Location: Lebanon Hills Regional Park
The Lebanon Hills Loop is a fantastic walking trail in Minneapolis that showcases what Minnesota is known for: the 10,000+ lakes!
You will circle 3 lakes, Jensen, O'Brien, and Cattail Lakes, and 3 ponds, Lily, Sedge, and Bridge Ponds, in just over 5 miles!
Be sure to pack some bug spray in the summer, as the mosquitos will definitely be out on this trail.
Lebanon Hills Regional Park is located only a short distance from Fort Snelling State Park as well as the Minnesota Valley National Wildlife Refuge.
It's one of the best hikes within an hour of Minneapolis.
10. Lake Pepin Overlook Loop
Distance: 3.6 miles roundtrip
Location: Frontenac State Park
The Lake Pepin Overlook Loop trail leads you along a wooded path to a beautiful view of Lake Pepin, which the great Mississippi River flows right through!
Frontenac State Park has a wide variety of bird species, making it a great spot to watch for birds and wildlife along your hike near the Twin Cities.
The trail itself is moderate with some elevation gain.
Visit during the spring and summer and you'll be greeted by some beautiful wildflowers along the trail!
11. Prairie and Deer Valley Loop
Distance: 19.3 miles roundtrip
Location: Afton State Park
As the longest hike on this list, this would definitely be considered a backpacking trip, rather than a day hike.
You'll follow the Saint Croix River and the Minnesota-Wisconsin border for a portion of the trail.
For those wishing to make this a multi-day trip, there is a backpacking campground in the middle of the loop.
If you're interested in doing this hike but aren't up for the nearly 20-mile distance, consider doing just part of it!
Many parts of the trail loop back to the trailhead, making it easy to shorten it for a day hike instead.
This is definitely one of the most popular places to hike near Minneapolis, so you'll definitely want to check it out.
12. Hidden Falls Loop
Distance: 8 miles roundtrip
Location: Nerstrand Big Woods State Park
This fantastic loop trail through Nerstrand Big Woods State Park will give you a little taste of it all, from a creek to a waterfall to the "big woods" trees.
The state park is about an hour south of Minneapolis and allows you to escape some of the crowds from the closer trails.
Starting near the Nerstrand Big Woods Campground, you'll take the Hidden Falls Trail until you reach the amazing waterfall that is, Hidden Falls.
The trail name will change multiple times, including Hidden Falls, Beaver, Fawn, Hope, and White Oak as some of the names.
If you prefer a shorter hike, consider cutting off the loop and just hiking to Hidden Falls. The hike to the falls is just about a mile roundtrip.
Note: Because of how many times the trail name changes along this loop, I highly recommend using a GPS app such as AllTrails for this one!
13. Mount Tom
Distance: 3.3 miles roundtrip
Location: Sibley State Park
Mount Tom is located in Sibley State Park, about 2 hours from Minneapolis and Saint Paul.
While this hike is a bit farther out from the Twin Cities, it's worth the drive!
This trail is quite hilly and has some elevation gain, but luckily it isn't very long.
This trail can be taken either clockwise or counter-clockwise, starting at the visitor center.
You'll reach the Mount Tom observation tower and will be rewarded with fantastic 360-degree views of the surrounding area as you tower above the trees.
Because of the amazing viewpoint, it's one of the best on this list.
14. Wolf Creek Falls
Distance: 1.5 miles roundtrip
Location: Banning State Park
Wolf Creek Falls is located in Banning State Park, about an hour and a half from Minneapolis.
Although this is a bit further drive, it's worth it, because it's typically not crowded like some of the other Twin Cities trails can be.
This trail leads you through the woods where you'll pass by hundreds of beautiful pine trees before reaching Wolf Creek Falls.
The hike is short, fairly flat, easy, and dog friendly!
You'll park in the Banning State Park Campground parking lot and head out from there.
Another great option for this hike is to park near the Quarry Loop trailhead. Take the Quarry Loop Trail, which follows the river.
This eventually loops into the Wolf Creek Falls trail, giving you beautiful views of the Kettle River for the entire time.
15. Glacial Potholes and Ice Age Trail
Distance: 1.7 miles roundtrip
Location: Interstate State Park
Interstate State Park in Saint Croix Falls, Wisconsin is a beautiful park, just an hour from Minneapolis.
This park stretches across the Minnesota and Wisconsin border, between Taylors Falls and St. Croix Falls.
A lot of history is found within the park about the glacial ice age period.
The Glacial Potholes and Ice Age trail is located right across the Minnesota border, on the Wisconsin side.
You will be taken past amazing views from above the Saint Croix River. There also are unique potholes created by glaciers in the ice age period.
Along the Saint Croix River, there are cliffs of rock and trees, called the Dalles of the Saint Croix, which you'll also have the chance to see on this trail.
Many people also use these trails for some beautiful snowshoeing during the winter.
16. Loring Park
Distance: 3 miles roundtrip
Location: Loring Park
Loring Park has been a popular area of the Twin Cities for many years, and especially in recent years has become a great place to visit.
The entire area around the park is fantastic for visitors, and you'll get to see some of Minneapolis's top sites.
While it isn't technically a Twin Cities hiking trail, you can make it a walking trail in Minneapolis for a self-guided tour.
Start at the Basilica of Saint Mary and make your way over to the Minneapolis Sculpture Garden.
Here you'll see fun outdoor sculptures like the Spoonbridge and Cherry, as well as blue rooster.
The Walker Art Center is also found along the route.
17. St. Anthony Falls Heritage Trail
Distance: 1.7 miles roundtrip
Location: Minneapolis
This fairly short and easy trail leads you along the Mississippi River and across the Stone Arch Bridge.
You'll pass the famous St. Anthony Falls, which was used for milling operations back in the 1800s.
You'll also see Hennepin Island as you cross the bridge.
On the other side of the bridge, you'll see where some of the milling operations took place when Minneapolis was known as the 'Flour Milling Capital of the World.'
It's really just a nice area, right within the city, that you can use to escape the office for a bit during the day or maybe your hotel when in the downtown area.
Are the Twin Cities Good for Hiking?
While most people think of Minneapolis and St. Paul for shopping, you can still find some great nature and places to hike.
Within just a few hours of the city, there are almost 30 state and regional parks for hikers to choose from, plus trails that are located outside of these parks.
So if you're willing to drive 30 minutes to an hour, there are definitely some fantastic hiking trails in the area that will let you escape into nature.
When is the Best Time to Hike Near the Twin Cities?
Minnesota is beautiful during all seasons of the year, but some times are better to hike than others.
The summer and fall seasons may be the best time for hiking around all of Minnesota because of the ideal weather.
Summers in Minnesota are warm and sunny. The trails are wide open and ready for visitors! Fall is another fantastic time to visit with the incredible fall foliage.
Winters in Minnesota are definitely harder to get out on the trail because of the heavy snowfall and ungroomed trails.
You May Also Like 👉🏼 When is the Best Time To Visit Minnesota?
Minnesota State Park Passes
Many of the hikes on this list require a pass, as they're located in state parks.
You can purchase either a daily pass for $7, or an annual pass for $35.
You can purchase your annual pass here. You also can buy them at most state park visitor centers for the same cost.
What to Wear While Hiking in Minnesota
When planning a hike in Minnesota, it's important to check the weather and ensure that you're dressed appropriately.
Here are some tips on what to wear while you're out on the trail in Minnesota.
You May Also Like 👉🏼 What to Pack for a Trip to Minnesota by Season
Wrap-Up: Hikes Near the Twin Cities
Minnesota's Twin Cities are home to some great state parks, nature reserves, and trails.
From right in the center of town to a short day trip, there are so many great ways to get outside.
When you're deciding where to go to escape the city, use this list of the best hikes near Minneapolis and the Twin Cities to choose your next trail.